Every year the trends of every fact have changed and our task is to follow them to stay updated. In the world of web designing, the customs are more simultaneous. It is even hard to keep going with the changing terms. In this new year of 2020, you should so, learn about the newest web design trends properly. This is what I am here for.
You know those following recent conventions are very important. Because if a site doesn't maintain them, viewers will think it as a backdated and closed one. Also, to compete with the other sites, you have to focus on the latest and ongoing themes. This is the reason for knowing them properly.
Top 15 Best Web Design Trends To Follow
So, let's see what are the recent time best trends in the web industry. I don't like to add hundreds of points at once. Rather knowing properly 15 of them are okay. So, I am here to describe them on by one and you can find them below.
1. Oversize the elements and types
Many product selling and promoting websites demand large and prominent images of their productions. So, oversizing the elements' image can help with focusing on their products. Some big size images also help to create a good image in the viewer's mind.
On the other hand, the viewers can see details of the products from the images that focus on them. So, try to oversizing the elements and make it a bit better than before. In this case, the fullscreen image works well. You can also try fullscreen video files for the website's home pages.
2. Fluorescent 3D digital artwork
Using 3D artwork has now become very common. Kids of 3D video content also look great with their unique colors like neon, luminous, candy, copper, and so on. These types of artworks are great to seek visitors' attention very easily. Another benefit of such works is its availability.
You can easily find a person who can create such a design with no special efforts. Because a person with very little web designing skills can take care of them. But keep it in your mind that the 3D elements or artwork have to be proper in size and shape. You should be aware of their appropriateness and contrast as well.
3. Use solid color blocks
Solid color blocks on different sides of the images can create some space in case you want to write something on the main image. You can mix up the boxes on the real image and make a unique one. There is a big benefit of keeping those boxes on the images.
You know that many companies want to write their features or something about them. Keeping solid color blocks can create spaces for them. Besides, you can add some photographs on the blocks if you want to add them.
4. Split-screen content
You must see some images with two pictures side by side. And they are set up so perfectly that it looks great. For this, split-screen content works very well. Even such two side by side images in one frame has now become a new trend. So, when the content is about web design trends, how can I avoid it.
However, you can try this split-screen content. Here, you can keep two or more images in one frame. On it, you can also place a solid-color box too. It's all about your choice.
5.Use lots of whitespaces
A big screen full of white space and a large size element in it can be a great image for any site. This is why using a lot of whitespaces has become a new trend. You can also follow it to focus on the product properly.
However, whitespace is know known as a negative space that mainly refers to the blank area. To bring a feel like spacious and to bring a perfect appearance of an element, this whitespace is incomparable.
6. Overlapping layers
Another ethnic way to make a better form of the image is overlapping multiple pictures. You can overlap an image on a 2D form. You can even overlap video files on another file too. It looks different and unique. The viewers can see two different ideas at once with this idea.
The overlapping content can be handled by placing one file on top of another or vise versa. You can also overlap multiple numbers of photographs, images, or video clips on the base. For that, look for the size of those items. Try to match them with each other. Otherwise, the theme won't look properly arranged.
7. Exposing windows and grid
It is another popular trend for web designers. Bringing some unstructured lines, rectangular shapes of boxes or some thin lines to divide the images into sections prefers this style. These grids are like the guidelines that you have to focus on your frame.
8. Fix motion and interactivity
Bringing a motioned interaction can create an eye-catching view of a site. And it has happened for many of the famous website images. Because motion is the surefire way to grab the visitor's eyes instantly. You can use various forms of motions from the design of the micro animations.
You can add typography, click on elements approach that will simultaneously run over the screen with the motion. It is quite like the traffic instruction that runs on a lighting banner. It looks great and to convey a message, it is really helpful.
9. Try fullscreen forms
It is another trend this year. Fullscreen images are good to focus something deeply. For ⁿ0, you can keep some elements with its big size. Now, you can keep white space around the elements. Turn it into the fullscreen form. This way, a very simple but focusing web design can be created.
So, trying out the fullscreen form can be a very eminent idea for the sites that need to focus on something properly. You can have a look at different web sites that have tried this technique. Hopefully, you will get a better experience and be able to make your tasks better.
10. Use dark mode
Using dark mode on your images looks modern and simple. Especially to focus something special, you can use dark mode. Some famous sites have all over the dark area. They also look elegant. At the same time, it seems better for the eyes of the viewers.
Moreover, the dark theme is better for the OLED screen. Besides, it works like a power-saving mode. Also, the dark color improves the visibility of things of other colors that you want to focus on the image or the theme. In 2019 and 2020, the dark theme has reached to the next level. So, you can try it to make a better theme for an eminent and modern site.
11. Try tailored illustrations
Exposing an instant message using some tailored illustration has now become very popular. So, it cannot be excluded from the most popular trends. However, creating illustrated icons and make moved in a way that will give you a very clear message is the fact here.
Color contrasting, right placement of the illustration, proper moving way, etc are the facts that you must have to keep your eyes on to make something greater than before. Besides, try to make it calm and good for the viewer's eyes.
12. Combine photography tools with graphics
It is another ultra-modern trend in recent times. You can take a rustic or elegant type photo from your photography ideas. Now, mix the graphics tools on it. Use illustrations and many other icons on it. Also, you can overlap a photo on a graphical image. Like the same way, you can overlap an original graphics on top of your real photographs.
Such a photo blending idea just brings very special effects and an extra focusing approach on your Images. However, in this case, you have to be more careful about choosing the photo and the graphics tools. Color is another important fact here. You have to keep it in your head that you have to bring the light and color construction to complete the next level.
13. Using Soft Shadows and floating elements
If you don't like dark modes, you can try using some soft shadows to make your schemes a bit more dynamic. In a photograph, you can use this technique. The shadowy feel will bring a very modernist appearance. Also, it looks calm and works supportively for the viewer's eye.
Besides you can add some floating elements on your schemes. You can add photographs, body and object structures that are floating. In recent times, adding such floating items has now become a trend.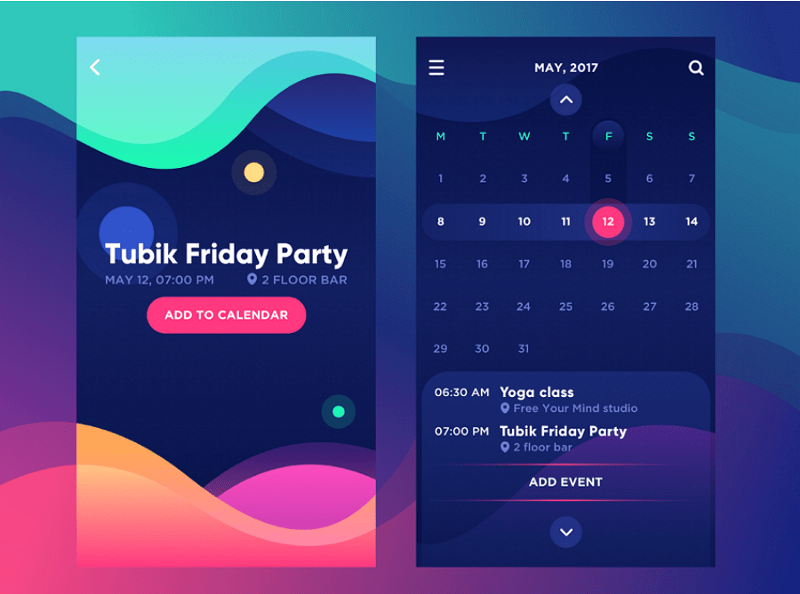 14. Use luminous color schemes
You can also use different types of luminous color schemes as the background. Especially, the dark galaxy schemes have become one of the most popular web design trends of this year. Besides, northern lights, dark neon colors, etc also work very well in such cases. Just like the dark theme, these schemes also work supportively to save power. At the same time, they are eye-protective and look great in one word.
You can make a background of such a beautiful luminous color or scheme. If want to use a photograph on it, just place it on top of the scheme. You can also create a solid color box on it to write something important on that. Following this way, it can be an ultra-modern theme and people will love it.
15. Add 3D elements
The last one for this list is adding 3D elements. For the background, you can use any of the above ideas. For example, you can try the luminous color schemes. Now, you can add elements like cars, phones, books, dress, animations, cartoons, and whatever you want to add.
Such 3D objects bring special appearance to that scheme. Also, for some product-based sites, you can the exact 3D items to focus their production. Also, you can place the objects in a very instructive way to make a little rustic look.
Conclusion
These are the 15 best web design trends of recent times. And you know why you should follow them. You can try any of the mentioned customs or try some at once to blend the tools. But always you should try to stay updated. However, after researching for a long time, I have found these 15 as the most popular web design ideas. It doesn't mean the other schemes designing ideas are not good enough to try. You can try them and let me know about your experience too.
Now, it's enough for now. Let me know if you have anything to ask about the above factors. Also, remind me in case I have missed something important. Till then, stay tuned with us!